Meet Our Donors
Randy Proctor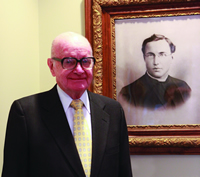 Creating a Lasting Legacy
"We need compassionate, well-educated and courageous priests to carry out the mission of the Church."
˜ Randy Proctor
It was in coming to the realization of the need for Diocesan priests that Randy and Ruth Proctor established the Randall and Ruth Proctor Endowment Fund in 1998. The Endowment gives annual support to the education and formation of Diocesan seminarians. Randy knows that the Lord has richly blessed him and his wife, Ruth, during their life, especially in their encounter with dedicated Diocesan priests, and they wanted to give back as a way to ensure that future generations will have the same opportunities.
As a husband, father of 3 and grandfather of 5, Executive Vice President and Chief Agency Officer for a large insurance company and long-time community volunteer, Randy is humbled by the many blessings he has received during his lifetime. Randy has also had to face his share of difficulties and heartache, but through it all his Catholic faith and the sacraments have helped to see him through both the "Good Friday's" and the "Easter Sunday's" in his life.
"The sacraments are an essential part of our Catholic faith and we need priests to administer them, especially Reconciliation and the Holy Eucharist," Randy explained. "We thought the endowment would be a practical way to help impart the Catholic faith to the next generation. It was a dedicated and holy priest who helped me discover the Catholic faith while a student at the University of North Carolina, and for this I am most grateful."
Randy was born in Salisbury, North Carolina into a Baptist family; he has many fond memories of Salisbury. After high school he attended college at UNC, where he met Fr. Francis Morrissey, who helped to bring Randy into the Church.
Randy never looked back. His love for the Catholic faith animated his daily work, and he put many of his professional skills at the service of the Diocese. A few of his roles have included: Chairman of the Bishop's Annual Appeal, the Diocesan Building Committee and 15 years on the Diocesan Finance Council. Randy remarked, "I thoroughly enjoyed my years serving the Diocese alongside Bishop Gossman.
"While helping in various volunteer roles I was able to see the inner workings firsthand and soon discovered many needs of the Church throughout our large and expanding Diocese.
"When we created the endowment we wanted to start funding it right away with annual gifts. We could have established the endowment through a bequest, but I'm the type of person who likes to see the results and outcomes while I am still living."
The Endowment has continued to grow over the years and now distributes over $5,000 annually towards the education and formation of a Diocesan seminarian. Randy's goal is to grow the Endowment through outright gifts and a future bequest to the point where the annual distribution will cover the cost of one Seminarian's education each year. "People like to be part of something valuable; having an important goal makes the work worthwhile."
Currently, the cost to educate, house, and feed one seminarian per year is $35,000. "I am happy with how the investments have performed and the Endowment has grown over the years," Randy said. "We hope the education and formation they receive will in turn lead many souls to their eternal destination – Heaven. I encourage others to consider establishing an endowment for a Diocese ministry that they hold near and dear to their hearts I assure you it is a very satisfying venture that will live on long after we have left this earth."
To learn more about how you can assist with the needs of today's Catholic seminarians or support another Diocesan ministry that is close to your heart, please contact Ryan Flood, Director of Special Gifts at the Diocese of Raleigh at 
(919) 821-9774 or via email at ryan.flood@raldioc.org.