Meet Our Donors
Lt.Col., Charles Schwab, Ret. USMC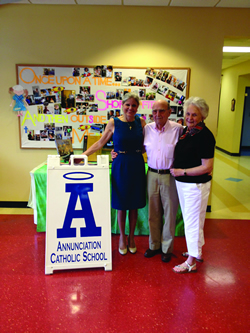 A lifetime of Giving and Service
Lt.Col., Charles Schwab, Ret. USMC (not the famous investment manager), has spent the majority of his life serving others. I recently sat down with Charlie and his wife Marie to discuss their charitable endowment and the wonderful impact it is having on Catholic education in Havelock.
Charlie has spent many years in the service both to his country, 30 years in the United State Marine Corps and his 92 years in the Church. In 1997 he decided to create a charitable gift that would perpetuate his love for the Church and Catholic Education. The establishment of the Leona Jacobs Schwab, Ethel Tew Schwab, Marie Stafford Schwab and the Charles F. Schwab Endowment Fund provides an annual gift to Annunciation Catholic School in Havelock to purchase necessary equipment for the the school, which have included new computers and other educational tools that assist in the students' formation. Each year while he is living, Charlie makes a gift to fund the corpus of the endowment.
He has also established a planned gift. Specifically, he made arrangements to fund the Endowment with a gift of a life insurance policy upon his passing.
"I was not a recipient of a Catholic school education myself," he said, "but my children were, and have benefited greatly from their time at Annunciation. I am most grateful for having the opportunity to send them to this wonderful school. My hope is that through the endowment many children will benefit from this great Catholic education."
Charlie began his military career flying fighter jets and once even took a flight to "outer space." "We flew to a certain altitude and then turned off the engine and just sat there for a while floating," he recalled, "and for the first time in my life I realized the world was round! When we returned we were subjected to a battery of tests for over a week. We survived, and I even have a card to prove it!"
Charlie also shared a story of how, when he was at Cherry Point Marine Base in Havelock, the Marines were instrumental in building Annunciation Catholic Church and School in 1953-54 with their own hands. "Msgr. Howard was a great motivator," he said. "The Catholic Marines put all their trade skills to good use. We had Marines who did carpentry, plumbing, electricity, you name it. We all chipped in to help build."
Whether physically building a school with brick and mortar or monetarily building a charitable endowment, "Charlie Schwab has certainly served the Lord well," remarked Susan Parks, Principal of Annunciation School. "Charlie has been and continues to be a zealous promoter of Catholic education," she said. "His enthusiasm and zest for life are an encouragement to so many in our community. It is my hope that others will read this story and be encouraged by Charlie's selfless giving. Charlie is truly helping another generation of Catholic school students reach their fullest potential. I am so thankful for his dedication and Christian witness."
This year Charlie will turn 93 years old, but he has no plans of slowing down. He remains active in his community and enjoys spending time with his children and grandchildren.
To learn more about how you can assist with the needs of today's Catholic school students or support another Diocesan ministry that is close to your heart, please contact Ryan Flood, Director of Special Gifts at the Diocese of Raleigh at (919) 821-9774 or via email at ryan.flood@raldioc.org.