Meet Our Donors
Charles "Chuck" and Mary Dean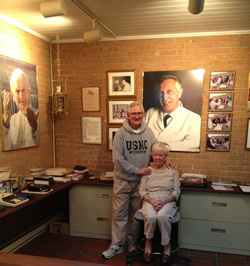 A Pro-Life Legacy
Charles "Chuck" and Mary Dean have served the Church for almost 30 of their nearly 50 years of marriage in the area of pro-life education. Mary began her work with Birthright, and later she and Chuck became active volunteers for the local Chapter of the Society for Human Life.
Chuck later served as its president and Mary disseminated pro-life educational information to people and organizations worldwide in a 3-year battle to prevent a local medical school from establishing America's first test tube baby clinic. "We had clearly written information on why the new technology should not be allowed," said Mary. It had been written for Chuck by the now Servant of God, Jerome Lejeune, a close friend and scientific/medical advisor of Pope John Paul II. Professor Lejeune (pictured in the background) laid the ground work for The Pontifical Academy of Life, and was made its first president by Pope John Paul II. Soon thereafter the Pope would eulogize him as "a great 20th-Century Christian, a man for whom the defense of life became an apostolate."
"Doctor Lejeune will remain forever as one of my life's greatest inspirations," said Chuck, "but so many others in all walks of life, who devote themselves to protecting every human life from conception until natural death,- are among Mary's and my greatest blessings."
In addition to being long-time contributors to their local parish, Chuck and Mary also felt it was important to leave an estate gift for the benefit of the Campus Cathedral Project. "We are ecstatic to have been blessed with such a wonderful and enthusiastic shepherd as Bishop Burbidge," they said. "With the current and projected growth of our Diocese (currently at 500,000 parishioners) we know that the Cathedral will be a central location for many Diocesan parishioners to gather at one time to participate in the Holy Sacrifice of the Mass and other important events in the life of Church, including priestly ordinations. We are confident that our bequest will assist Bishop Burbidge in his long-term planning for the spiritual and temporal needs of the Church in Eastern North Carolina."
By naming the Campus Cathedral Project in their will, Chuck and Mary have become members of the Diocese of Raleigh Catholic Heritage Society. The Society honors the Christian generosity of those who are providing for the future of the Church. Through membership in the Heritage Society, individuals and families partner more closely with our Bishop in supporting the mission of Christ as it is carried out in our diocese. As a planned benefactor with the Church, members are further involved in the activities, ministries and faith of the Diocese. Some of the benefits include: a semi-annual correspondence from the Bishop that updates you on Diocesan activities and future Diocesan plans, a Certificate of Membership and an invitation to an annual luncheon hosted by the Bishop.
Chuck and Mary said they feel humbled to see how many younger Catholics have embraced the Pro-Life message. "We see this each year," they said, "in the growing numbers of youth who attend the annual March for Life in Washington, DC. It is our hope that the Holy Name of Jesus Cathedral will be a fitting home for the Author of Life, Jesus Christ, and a beacon of light throughout Eastern North Carolina and beyond."
If you would like to learn more about how you can leave a gift through your will or trust, please contact Ryan Flood, Director of Special Gifts for the Diocese Raleigh, at (919) 821-9774.