Meet Our Donors
Marie McManus: A Life Well Lived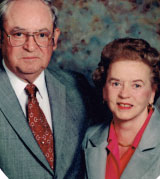 Marie McManus was born in Canada, in 1922 and grew up during the Great Depression. She was raised primarily by her aunt, as her mother had several health issues and her father was, unfortunately, not in the picture. Marie eventually moved to Detroit, Michigan, as a teenager and lived with her maternal grandmother. After high school, Marie and a friend moved to Washington, DC, where she obtained a job as a secretary for the Indian Embassy. The majority (30 years) of her professional life was spent as the executive secretary for the International Monetary Fund (IMF). Marie eventually married Leonard McManus, a retired Navy pilot, and the couple relocated to Northern Virginia.
A Providential Neighbor
Despite the hardships of growing up with various family members and not having many material possessions, Marie had a strong faith in God's Divine assistance and often prayed the Rosary in French, her native language, for the needs of the Church. While traveling for the IMF, she would often visit shines and world renowned Cathedrals, Basilica's and churches. Shortly after moving into their new home, Marie received a knock at her door from a boy who asked if he could mow their lawn. Marie was impressed with the boy's kindness and manners; they spoke for a short time and she hired him. The boy was not only polite, but also a hard worker. Marie became friends with his parents who lived across the street, in fact, after Leonard's passing, Ed and Rita often took Marie to the 5:30 Mass on Saturday evening, then to shop afterward at the military base. During these years, Marie continued to pray for needs of the Church. As the years passed the boy went to college and the Air Force, where he flew the C130E Hercules (the C-130 was originally designed as a troop, medevac, and cargo transport aircraft, it's a big plane!). After his time in the Air Force, he entered the seminary. Given the connection to her friend, Marie stepped up her prayers for needs of the Church, specifically seminarians. Seven years later, Marie travelled to Rome to be present at her friend's Diaconate Ordination at the North American College in Rome. Marie often remarked that this was one of the highlights of her life. A year later, the young man was ordained a priest for the Diocese of Raleigh.
Building on An Already Great Legacy
One would think that Marie would be satisfied that all her prayers assisted in the ordination of a Catholic Priest, however, she wanted to do more. Marie wanted to help provide the opportunity to other men being called to give their lives to Christ's Church. She particularly wanted to support those men who came from poor families, like her own. She asked her priest friend how she could go about establishing a charitable gift during her lifetime and as part of her estate plan that would annually fund a seminarian's education in perpetuity. Her friend, put her in contact with the Diocesan Director of Special Gifts, Ryan Flood. Marie explained her charitable intentions to Ryan and they worked together to craft a plan that would reflect her ideas and values. One of Marie's assets was a portfolio of stocks that she and Leonard purchased just after they were married.
She asked her priest friend how she could go about establishing a charitable gift during her lifetime and as part of her estate plan that would annually fund a seminarian's education in perpetuity.
They bought the stocks as a "backup savings plan," which they never had to use. They neither sold the stock nor used any of its dividends, they just kept reinvesting the dividends over the years, as she felt this would be a perfect charitable gift for the Church. The estate planning continued for a few months and involved discussion of various charitable arrangements and what assets would be most beneficial to her, her family members and her favorite charities. Eventually, in 2014, Marie worked with Ryan to establish the Marie L. and Leonard M. McManus Seminarian Endowment Fund. Marie would fund this endowment during her life-time with outright gifts and eventually with two gifts from her estate following her death. After Marie approved the ideas, she worked with an estate planning attorney to establish a trust to benefit her family and other charities. The moral of the story is to take the time to plan and work with seasoned professionals who can assist you every step of the way. Marie's gift will provide annual seminarian scholarships. With God's grace, these seminarians will eventually be ordained priests and nourish the souls of the faithful through the sacraments, especially the Sacrament of Reconciliation and the celebration of Holy Mass. Many of God's children will be impacted, healed and brought back to Holy Mother Church through the ministry of these priests and Marie's generosity and planning… what a legacy!
All in God's Timing
Maria had more than a few trials in the last years of her life, it was her own "assent up Calvary" in a way. She was greatly rewarded, by our Lord for her years of faithful service, sacrifices and prayers. Our Blessed Lord took her home on the 100th Anniversary of the first Apparition of Fatima, May 13, 2017! Well done good and faithful servant.

I bet you are wondering who
that boy, turned Navy pilot, turned priest turned out to be? It was none other than our own, Bishop Ned Schlesinger, who, around the same time of Marie's passing, found out he was named Auxiliary Bishop of the Diocese of Atlanta…now how many people can say they once had a Bishop who took care of their yardwork?