Catholic Estate and Personal Planning Seminar
Thank you for the opportunity for this very informative seminar. It was very insightful and we at least have a good starting point for ideas for charitable contributions. Thank you for putting these documents [gift illustration] together for us, it will be something to think about.

Taking the trip to Raleigh was worth the time and effort.

Evelyn D.
Blessed Sacrament Catholic Church, Burlington, NC
Would you like to offer parishioners a thoroughly practical educational experience?
As many of the Diocesan parishes and programs keep growing, we are continually looking for ways to assist and collaborate with each of you in your stewardship and development efforts. As a way to help educate parishioners/volunteers in their growth as faithful stewards of the Lord's gifts, we are conducting a series of Catholic Estate and Personal Planning Seminars throughout the Diocese of Raleigh.
See also: Long-term Care Planning on YouTube
Ryan and Chess,
Thanks again!
The parishioners enjoyed the St. Michael Estate Planning Seminar!

Larry McAnallen
Stewardship Director
St. Michael the Archangel Catholic Church

---

"The Seminar packet is filled with useful information and we were happy to have you and Virginia (Estate Planning Attorney from Wilmington) give us solid answers to our questions"

Kathleen Cahill
Stewardship Coordinator
All Saints Catholic Church, Hampstead
Since 2013, a total of almost 900 Diocesan parishioners have attended 46 seminars. Please keep in mind that these seminars are not meant to be an additional Diocesan development initiative, but a way to complement and enhance other giving programs.
As the Director of Special Gifts for the Diocese of Raleigh, I will lead the seminars and would be happy to collaborate with any local Estate Planning Attorney. I've been involved in Catholic Estate Planning for 15 years and will be pleased to assist parishes and parishioners with their planned giving needs. The seminars will provide an excellent opportunity for parishioners to learn more about what personal planning is and what it involves. Seminar topics include: legal steps required in personal planning, understanding wills and trusts, Catholic Advance Medical Directives, Power of Attorney and an overview of the various charitable vehicles for estate planning. There will also be ample time for questions, both during and after the presentation.
Many parishioners/volunteers have participated in the success and growth of your parishes/programs over the years. However, to offer parishioners/volunteers the option to make gifts through a will or trust will provide your parish, school, and other Diocesan apostolate with an additional source of revenue that may otherwise be gifted to another non-profit.
If parishioners/volunteers already have an estate plan in place, need to update a current plan or would like to learn more about how they can help leave a legacy of faith of future generations, they will benefit from this educational seminar. This is a free seminar and no solicitations will be made.
The Office of Stewardship and Advancement will provide the following promotional materials:
A bulletin announcement
Letter from the Pastor
Seminar Agenda
Local Estate Planning Attorney (may also me provided by the parish)
Newsletter/email announcement promoting the seminar (as well as flyer if requested)
Presentation – Apple's Keynote for Mac
A free 34 - page Catholic Estate and Personal Planning Workbook. (limited one per attendee)
"The Catholic Estate and Person Planning Seminar is a true gift to members of our Diocese. Ryan Flood and Chess Griffin provide a straight-forward overview of things we need to put in place so that our estates will have the biggest impact for our loved ones and for any charities that we so identify. Planning is important and they provide the tools along with an outstanding workbook to articulate our plans. It's definitely worth spending time with Ryan and Chess."

Dorothea Bitler, Director of Development, Our Lady of Lourdes Catholic Church
Parishes will be responsible for:
We ask each parish/program to provide light refreshments for the parishioners and a venue that is suitable for a 1 hr. 15 minutes presentation.
Important Facts about Estate Giving:
The largest single gift your parish may receive will likely be from a parishioner's estate.
A large portion of the population does not have a will.
70% of all charitable giving comes from people who regularly attend church.
Your parishioners are continually being asked to make estate gifts by their colleges, universities, hospitals and other charities.
Your parishioners can establish an estate gift while maintaining and even increasing their current giving or weekly offering.
To schedule the Catholic Estate and Personal Planning Seminar at your parish or to obtain a free copy of the Catholic Estate and Personal Planning Workbook please contact Ryan Flood at the Office of Stewardship and Advancement at (919) 821-9774 or via email at ryan.flood@raldioc.org.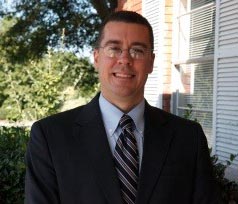 Ryan Flood, CFRE is the Director of Special Gifts for the Diocese of Raleigh and a parishioner at St. Catherine of Siena in Wake Forest. His promise to others is careful listening, attention to your best interest, solutions that reflect your values and priorities, professional expertise and absolute confidentiality. He is a member of both the local and national Partnership for Philanthropic Planning. He has worked in the area of planned giving for more than 16 years.
Catholic Estate and Personal Planning Seminars have been hosted by the following parishes:
Saint Paul Catholic Church (2)

New Bern
Saint Mary Catholic Church

Wilmington
Basilica Shrine of Saint Mary (2)

Wilmington
Holy Trinity Catholic Community

Williamston
Saint Jude the Apostle

Hampstead
Saint Raphael Catholic Church

Raleigh
Newman Center Parish

Chapel Hill
Our Lady of Lourdes (2)

Raleigh
Catholic Parish Outreach

Raleigh
Saint Thomas More (2)

Chapel Hill
Saint Peter Catholic Church (2)

Greenville
Saint Michael the Archangel (2)

Cary
St. Ann Catholic Church

Fayetteville
All Saints Catholic Church (2)

Hampstead
Catholic Center (7)

Raleigh
Mother of Mercy (2)

Washington
Saint Anne Catholic Church

Edenton
Holy Family Catholic Church (2)

Elizabeth City
Saint Mark Catholic Church (3)

Wilmington
Sacred Heart Catholic Church (2)

Southport
Saint Luke Catholic Church

Raleigh
Saint Therese Catholic Church

Wrightsville Beach
Holy Cross Catholic Church

Durham
Immaculate Conception Catholic Church

Wilmington
Saint Mathew Catholic Church

Durham
Holy Infant Catholic Church

Durham
Immaculate Conception Catholic Church